Open Slideshow
Request A Quote From A Representative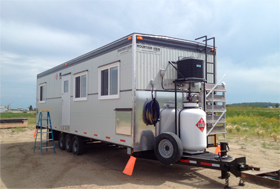 10x34 Wheeled Wellsite Trailer
Welcome To
Mountain View Manufacturing Inc.
Mountain View Manufacturing has been renting, servicing, refurbishing, designing & manufacturing quality modular buildings since 1986, based from our head office in Edmonton, AB Canada.
Mountain View Manufacturing offer's a superbly custom designed high quality relocatable prefabricated modular structure. Single or multi unit complexes, washrooms, skid mounted wellsite trailers, engieer geo units. We also include custom container modifications.
Mountain View constructs all our unit's well above the industry standards. Mountain View modulars meet and/ or exceed the guidelines established by the government of Alberta for relocatable industrial accommodations of which we are certified.
Certified Manufacturer
Mountain View is a member of the M.A.R.S Association "Manufacturers Association of Relocatable Systems".

Mountain View is a certified inspection facility with AMVIC "Alberta Motor Vehicle Industry Council".


Mountain View Manufacturing is a custom builder that will meet and/or exceed our customers required expectations.
Career Opportunities
Mountain View Manufacturing new plant opens in January

Help Wanted


Finishing Carpenters
Framers and Labors

Send your resume to
jobs@mountainviewmfg.com